Parish Leadership.
His Eminence, Metropolitan Gregory of Nyssa, Diocesan Hierarch
Voice: (814) 539-9143
Email Metropolitan Gregory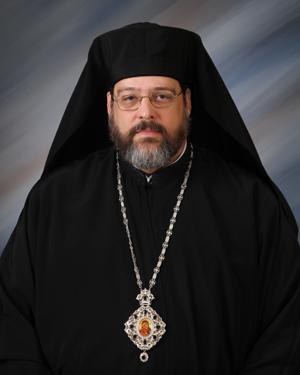 His Eminence, Metropolitan Gregory of Nyssa, is the spirtual leader of the American Carpatho-Russian Orthodox Diocese, which maintains offices at 312 Garfield Street, Johnstown, Pennsylvania, 15906.
His Grace, Metropolitan Gregory was consecrated as Bishop and enthroned as the Ruling Hierarch of the American Carpatho-Russian Orthodox Diocese of the USA on November 27, 2012.
His Grace celebrates his Name's Day (St. Gregory Palamas) on November 14/27.
Under His Eminence's care is our Diocesan Christ the Saviour Seminary, also in Johnstown, Pennsylvania, which trains future priests and deacons of our Diocese. In addition, the Diocese maintains Camp Nazareth Youth and Retreat Center in Mercer, Pennsylvania.
Metropolitan Gregory also serves as Episcopal Liaison to the Orthodox Christian Fellowship and Chairman of Committee for Agencies and Endorsed Organizations of the Assembly of Canonical Orthodox Bishops of the United States of America.
---

Rev. Fr. Jonathan Bannon, Parish Priest

Voice: (815) 398-2134
Email: ChristTheSaviorOrthodox@gmail.com
Fr. Jonathan Bannon grew up at St. John the Baptist Carpatho Russian Church on Mill Hill Ave. in Bridgeport CT. It was there as a child and altar server through the consistency of services and under the leadership of Fr. John Duranko, Fr. Peter Benyo and later Fr. David Cochran that Fr. Jonathan began his spiritual formation. Fr. Jonathan attended Camp Nazareth several years as a camper, and one day was asked about serving as a staff member. Fr. Jonathan had no idea when he accepted that his servitude at camp washing hundreds of dishes a day and serving hundreds of campers all summer would be the beginning of his formation as a diligent server of the Lord with an intense work-ethic.
Fr. Jonathan received his Bachelor's of Science in Art Education from Central Connecticut State University. Seminary was continuously on his mind as he worked through undergraduate in order to later attend the seminary. While student teaching the pull to the priesthood remained strong as Fr. Jonathan had the revelation that he did not want to teach these children about composition, line and pattern, as much as he desired to share with them the Lord and Salvation.
In the fall of 2009, Fr. Jonathan enrolled in Christ the Saviour Seminary in Johnstown Pennsylvania and began his three-year training for the priesthood. It was also during this time that Fr. Jonathan got engaged to his future Pani, Marianna. Together, Fr. Jonathan and Pani Marianna decided that they would spend one year together in Chicago after marriage, rather than Fr. Jonathan seeking his ordination immediately afterwards, which is the usual process for Seminarians.
While in Chicago, Fr. Jonathan took up work as a barista at the Starbuck's on Lake & Waukegan in Glenview. Starbuck's was never in Fr. Jonathan's plan, but soon he began accumulating "Starbuck's stories" as the job quickly transformed into a learning experience. Fr. Jonathan wrote in an article for The Church Messenger, "[I] understood that one ever knows where another has been in life, what they are going through, and perhaps walking away from. We are called to not only see God in others but to treat them with the very love God has richly bestowed on us sinners."
On June 15th, 2013—Father's Day, Fr. Jonathan was ordained to the Holy Diaconate by His Grace, Bishop Gregory in his home parish of St. John the Baptist in Bridgeport, CT. The Sunday following Pentecost, June 29th, Fr. Jonathan began serving the deacon's service and offering the Eucharist to the faithful at Christ the Savior in Rockford. Neither Fr. Jonathan nor the faithful knew if he would be staying permanently as their priest. All the faithful could do was pray and continue to wait patiently for word from the bishop.
Two months later, on September 1st, the beginning of the Ecclesiastical New Year, Fr. Jonathan was ordained to the Holy Priesthood by His Grace Bishop Gregory at St. Michael's Carpatho Russian Orthodox church in Niles during the National ACRY convention. Many of the faithful from Rockford made the travel to participate in this momentous occasion. The following week the faithful were finally informed that their prayers had been answered and Fr. Jonathan would be serving at their parish.
Fr. Jonathan and Marianna are the parents of one son, Adrian.
Click here to see Fr. Jonathan's involvement in the community
---
Church Board
President: Jeremy Erber
Vice President: Sarah Sherry
Treasurer: Craig Warmke
Corresponding Secretary: Timothy Lake
Financial Secretary: Rex Wiederholtz